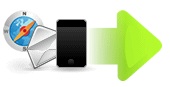 We all know a great real estate blog is essential for online visibility, but a common complaint among agents is that creating and maintaining a blog simply takes up too much time. The good news is, there are services out there built specifically for time-poor bloggers.

One of these is Posterous - an "enthusiastically" free service that turns emails into blog posts in seconds. The process is extremely simple:
1. Send an email to [email protected] Write your blog posts' title in the subject line, and the body of the blog post in the body of the email. To include photos or other images, simply attach them to the email.
2. Wait for the automatic reply linking to your newly-created blog. The address will appear as "http://yourname.posterous.com."
When setting up a blog is as simple as sending an email, you can understand why thousands of people are making use of this service. In fact, a search for "real estate" on Posterous brings up over 78,000 results.
Of course, those who want to do more with Posterous have the option to do so. Your blog posts can also include things like videos and MP3s, and you can attach your Posterous blog to your own domain name. Blog themes are customisable without any coding, and you can add multiple contributors if you want to work on a blog as a group.
Posterous is clearly hoping this simple approach will appeal to real estate bloggers - the service is now offering to switch ActiveRain users over to its service, and promises not to "mess" with users' old blogs.
Have you made the switch from ActiveRain to Posterous? Let us know why - or why not - in our comments.

Related posts: