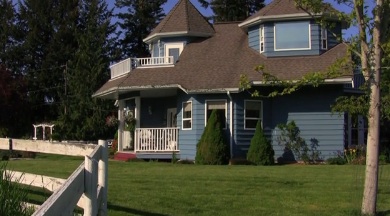 propertyadguru.com welcomes this guest post from Catriona Barry, product developer for Ireland-based video creation tool trakAxPC.

Obviously the last couple of years have been tough for most realtors and estate agents across the globe. In some markets things are picking up slightly, while in others (like Ireland), the market has remained challenging. To help their clients sell properties and to sign up new clients, realtors are looking at new ways of using technology, in particular video. Below, we have listed five easy but innovative ways you can use video to enhance your real estate business.
1. Create a video tour of your properties.
Real Estate Tour from tashunka b on Vimeo.
Creating a video tour of the property is much easier than you may have imagined. Looking at the video above, they have kept things simple – nice shots of the property with a recorded voiceover. The voiceover means you can write a detailed script and don't have to worry about your presence front of camera. Be sure you have a tripod (shaky video will just look unprofessional) and that each room is well lit and turned out.
2. Create a slideshow tour of the property.
Real Estate Listing Video from Jeremy Erickson on Vimeo.
This option is even quicker – if you are commissioning professional photos of your property, why not make a video slideshow to bring the photos to life. Quickly add some text to highlight some important points of the property and you're done. To achieve a similar effect to the video above, add some "zoom" effects and keep your font choice crisp and simple. What makes this video so successful is the actual photos themselves – the lighting is immaculate, so push your photographer to make the most of lighting available on the property.
3. Give sellers/buyers useful advice.
Pamela Liebman, CEO of the Corcoran Group is one of the most famous faces on the New York real estate scene. On the Corcoran Group Real Estate YouTube Channel, Ms. Liebman gives practical advice to sellers and buyers in bite-sized videos. Often less than one minute long, Liebman covers questions such as "How do I make an offer on an Apartment I Like?" or "How do I determine my price range for Buying a Home?" as well as questions that are very particular to New York.
As a real estate agent, you know your city or neighbourhood probably better than anyone else – what questions do new buyers always ask? Create short videos that you can share on YouTube and your website that answer these common queries and highlight the positive aspects of the neighbourhoods where you sell – not only should it help traffic by covering keywords that buyers may be searching for, but also build your reputation as a "Trust Agent".
4. Explain complicated technical information.
Real Estate Adjustments from PaulHatfield.ca on Vimeo.
Buying, renting and leasing are often complicated processes and buyers/sellers can be intimidated by legal requirements and the complicated form-filling that accompanies any property transaction. Why not create short videos (they can be one minute or less) clearly explaining some of the legal jargon that is part of the rental/lease/buying process in your jurisdiction.
I recently read that more new businesses were started in Ireland this year than in any previous year and I am sure this trend is reflected in many countries. The international downturn has meant more and more people have become entrepreneurs and are starting their own businesses. If you are running a commercial property business, these potential clients may be completely new to their commercial renting and leasing market. Videos explaining important information that these users need to know could be a valuable tool to small businesses and portray your real estate business as the "human face" of commercial property.
5. Market your real estate business.
Obviously to maintain a healthy real estate business, you need a combination of new and satisfied clients who are buyers and sellers. Often estate agents can get a bad rep, so reverse this preconception with a video showing your offices, your staff and maybe even some happy customers.
Catriona Barry is a Product Developer for trakAxPC, a multimedia editing application that enables both beginners and more experienced users to create professional videos - see trakax.com for more information.

Related posts: