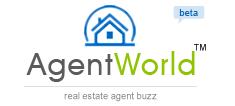 AgentWorld, the US website that aims to connect buyers and sellers with agents, says an iPhone application is in the works.

Licensed real estate agents can become members of AgentWorld for free and post public profiles, photos, videos and blog entries to the website. Members can also create "buzz" by posting mico-blogs about recent sales, new listings, open houses, price reductions and local market information, along with new designations and skills they have acquired.
A recent press release quotes co-founder Tyler Kraemer as saying the forthcoming iPhone release will allow agents to post their real estate news directly from the application.
It seems AgentWorld is gradually becoming established as an information source: the release also states that many AgentWorld profiles are now appearing on the first results page of Google searches for an agent's name.
"This is extremely valuable to agents, who really need to have those top results point to something they can control and something that promotes their image and reputation," says Kraemer.

Related posts: