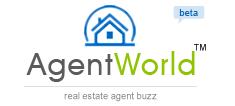 There's yet another new US social networking website aiming to connect buyers and sellers with the right real estate agent: AgentWorld.

AgentWorld says it provides fast, easy and useful online reputation management and networking utilities to empower real estate agents to boost their online visibility and connect with consumers in a focused and meaningful way. AgentWorld members (who are licensed real estate agents only) can post public profiles, photos, videos and blogs.
The company says that real estate agents can also create additional "buzz" by posting AgentWorld micro-blogs about recent sales, new listings, open houses, price reductions and valuable local market information as well as new designations or skills they acquire. Consumers can search and follow these micro-blogs to find an agent (and maybe even a property) suited for their specific buying or selling needs. It's also integrated with Twitter, with potential for a Facebook link up in the future.
Most interesting is the site's ranking system, which is conducted by peers who are also members of the social networking site. AgentWorld explains:
"Real Estate Ability Ratings take into consideration the standard of professional ability in the area where the real estate agent practices, the real estate agent's expertise, and other professional qualifications. If a real estate agent's practice is limited or specialized, Peer Review Ratings are based on performance in those specific areas."
It's currently free for agents to join, and covers the whole of the US with an International section in beta testing.

Related posts: