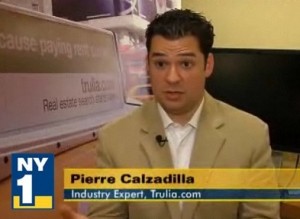 US property search engine trulia.com's Pierre Calzadilla and Trulia Voices agent Luke Constantino recently appeared on TV on NY1. They were talking about how home buyers, home sellers and real estate agents are using social networking sites like Facebook, Linkedin and Twitter to their advantage.

Pierre Calzadilla used some great examples in explaining how social media can work for agents:
"What's changed is the medium in which the consumers and the agents are connecting. And how consumers are finding information, and how agents are connecting to these consumers."
"Facebook has become the online cocktail party. Great way to agents and consumers to connect, very light touching, not heavy selling. LinkedIn has become the online chamber of commerce, professional, a little more rules when you connect. Twitter is like riding the bus and hearing someone talk about real estate and can say, hey, I'm an agent and I can help you sell that home."
Click here to watch the full interview on NY1.

No related posts.