US real estate search engine roost.com is now offering two customisable widgets that can be added to websites and blogs.

The first widget asks users to enter the price they are willing to pay for a property and choose three cities:



The results show how many bedrooms, bathrooms and square feet the user's money will buy them. roost.com says it covers almost 4,800 cities and so can "probably customise this widget for a city you service".
The second widget is simpler, asking users to test their knowledge of home prices: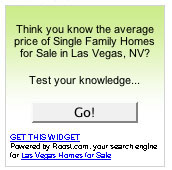 roost.com's blog explains that these widgets can be customised to show an agent's name and photo, include a tagline and display in a certain colour.
The roost.com search engine partners with local Multiple Listing Services, real estate brokers, builders and data providers, and directs consumers to a hosted network of real estate broker and agent internet data exchange websites.

Related posts: