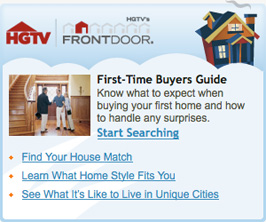 frontdoor.com, the real estate website of cable network channel HGTV, has introduced a set of free, self-serve widgets offering access to video and real estate content.

Real estate professionals can choose from four continually-updating widgets to add to their website, including "first home buying tips", "cool houses", "real estate videos", and "best of frontdoor.com".
Each widget displays frontdoor.com's branding. Branding on widgets can sometimes deter users, however 100wattconsulting.com's Brian Boero argues that the popularity of the HGTV brand may actually make the widgets more popular.
frontdoor.com itself has experienced a jump in popularity recently - the website moved from 37th to 17th place on the Hitwise list of real estate websites for May.

Related posts: