propertyadguru.com welcomes a guest post from Houston Neal about mobile phone apps for property management.

Houston Neal writes for softwareadvice.com, where this article first appeared.
Property management is not often an industry on the cutting edge of technology. However, more and more property managers are making use of smartphones in their daily activities.
So, Software Advice has put together a list of smartphone apps we'd like to see developed for property management. Most of the technology already exists in property management software and other mobile apps, it just needs to be mashed up for our use. Some of these save time. Others save money. And some of them are just plain cool.
1) Augmented Realty Applications - By far we are most excited about "augmented reality" applications. Augmented reality is the blending of computer graphics and real-world data in real-time. The idea dates back to 1990, but interest in the field has reignited with the arrival of camera phones.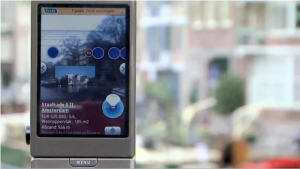 Augmented reality applications display digital information on top of real-time images using your camera phone. This image is from a video demonstration of Layar, an app for home buyers.
Here's how it works: turn on your smartphone video camera, then point it at your property. The augmented reality app will overlay data about the property in your viewfinder. This could include things like vacant units, tenants with overdue rent or repairs that need to be finished.
To get specific details, simply touch one of the onscreen captions to go to a tenant account, work order or vacancy report. From there, click-to-dial a tenant for overdue rent, send out a work order to maintenance staff or email a prospect about viewing a space. This would all be tied to your punchlist and to-do's would automatically be removed as you complete them.
To prove this isn't entirely far-fetched, check out this video of an augmented reality app for home buyers.
2) Mobile Marketing - Marketing and tenant screening are critical to maintaining profitable occupancy rates. Smartphones can make those processes easier. To start, a marketing app could perform a credit and background check from your phone. Most tenant screening services already offer this over the web, so making "an app for that" would be easy.
After approval, tenants could review and sign the lease electronically using your phone. Not only would this save time, but also a lot of paper and any associated costs (purchasing, printing and archiving). Best of all it could all be performed on location after showing a space. Just remember to use the ol' pinch and release to zoom in on that fine print.
3) Wireless Building Maintenance Management - Gone are the days of walkie talkies and making multiple trips back to the office for work orders. Smartphones keep engineers in the field and on task. Best of all, this already exists…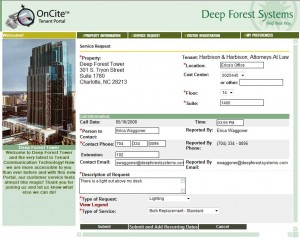 Deep Forest Systems, makers of OnCite Software, offers a wireless work order application. The app allows maintenance staff to access and edit work orders in the field. One notable time-saver is the "acceptance feature." Work orders can be dispatched to multiple maintenance crew members. Whoever is closest to the property accepts the request. The "to do" is added to that engineer's punch list and removed from others' queues.
We'd like to see this developed one step further. Utilizing GPS in smartphones, the app could ping crew members' phones, then automatically assign the task to whoever was geographically closest.
4) Voicemail Broadcasts - Need to make an announcement to all tenants? This app would allow you to create a voice recording and broadcast it to all tenants using a robo-dial feature. Start by building a call list of specific tenants — simply drag and drop from your database — then hit "go" to mass-dial each one.
This app would be handy for making general announcements, lease renewal notifications and emergency alerts. If it was a little more sophisticated, the app could automatically create and dial call lists for you. For example, the app could identify tenants who haven't paid rent, build a call list, then send your standard "overdue rent" message.
For the record, a similar version of this is already available from SayNow. The app allows you to broadcast voice and text messages to a group of people. But there is a drawback; SayNow has the right to put ads in your text and voice messages.
5) Tenant Portal - A great app for apartment managers and residents alike. Apartment managers could use the app as an online bulletin board, while tenants could use it to pay rent or communicate directly with property managers. For example, after logging in, tenants would see a bulletin board of daily notices (e.g. pool closures, crime alerts, new office hours, parking announcements, etc). From there, they could perform a number of activities like pay rent, put in maintenance requests or even renew their lease.
This app would also be useful for community development. Managers could send out invitations to social events or make recommendations about local restaurants and retail shops. Tenants could use it to meet other residents, post event announcements or buy and sell furniture.
A sophisticated version of this would allow residents to opt in to a GPS sync. When they arrive at the property, their smartphone will recognize the location and load up any of the day's alerts.
Of course all this could be applied to commercial property management. Businesses could leave comments for cleaning crew, place requests for repairs, etc.
Share Your Ideas
We could go on listing many other uses, but we'd like to hear your ideas instead. What app would you like to see developed? Leave a comment. Who knows, maybe we'll see your idea posted in an app store.
By Houston Neal
softwareadvice.com

Related posts: