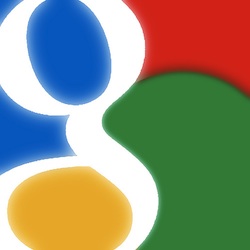 propertyadguru.com welcomes part one of this guest post from Petra Sprekos, general manager of Australian industry-owned real estate portal realestateview.com.au.

Search Engine Optimisation or SEO is a marketing practice that is becoming more and more prominent in today's business world. A few years ago, SEO was something that only the truly savvy online marketing expert was involved in. Today, if you speak to any business with an online presence, they will at least be aware of SEO with most having employed measures to improve their rankings or at least considered doing so.
Businesses with an online presence all over the world find that SEO can become one of their biggest (if not the biggest) traffic-driving channels. This article discusses some on-site tips that real estate business owners can undertake to get started on improving their rankings.
Research keywords
Before embarking on an SEO campaign, it is important to first work out what keywords you want to target. For major real estate portals and large agencies, this will be many hundreds or even thousands of keywords, with major ones like "real estate," "property" and "rental properties" being among the most prized. For a smaller agency, attempts to compete on "super terms" such as these may by futile.
Instead, agencies can look to longer keyword phrases, i.e four to six words in length (known as long tail keywords), which are less competitive, to find terms that they can compete for. Agents can enter different phrases into Google's Keyword Tool or Google Insights for Search (which is more trend-oriented) to see how many searches per month a term gets.
For example, if a real estate agent operates in the Richmond area and has a variety of different property types, they may like to try:
- real estate richmond
- richmond houses for sale
- richmond apartments for sale
- richmond rental properties
By entering these into the keyword tool, agents can find out which is worth targeting and find suggestions for keywords related to their business. Try the tool out for yourself with keywords related to your business.
Unique page title and description with keywords
A very important factor for search engines is that the page title (the wording in the very top bar of the browser window) and meta description (a hidden description of the code that should be in every page) are unique and contain the main keywords for the page. No two page titles or meta descriptions should be the same.
The page title is the most important on-page way to tell a search engine what the page is about. The meta description backs this up. From there, a search engine can start to work out which keywords a page will rank for.
When your site does show up in a search engine such as Google, the page title and description is what the user may see (as well as the URL). The image below is an example of our own realestateview.com.au homepage showing up in Google search results for the term "real estate":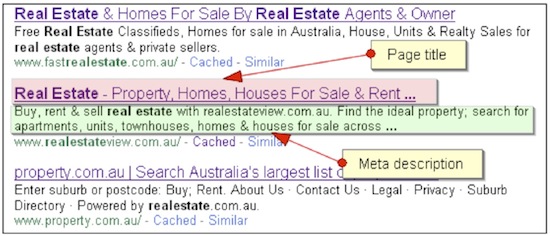 You will notice that the page title shows up as the main link in Google and (from the page's code) the description is beneath this.
The title targets "big" keywords such as "real estate," "property," "houses for sale" and more. Title tags should also be kept to around 65 characters including spacing and meta descriptions to 160 approx.
So unique and relevant page titles and meta descriptions are important for two reasons:
1. They alert the search engine as to what keywords a page should rank for and are an important factor in improving the ranking of the page for these keywords.
2. They are what the user sees when using a search engine, so therefore will be what attracts the user to click on the link.
Read part two here.

Related posts: