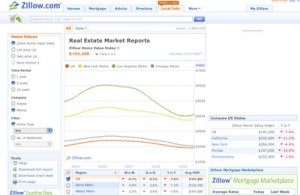 US marketplace zillow.com continues to offer new features real estate professionals can use to enhance their websites.

In early September, zillow.com revamped their Local Info section, which displays data such as home values, demographics, schools, and property types as well as homes for sale and real estate advice. This information can be viewed for the whole of the US or defined by state, city, or neighbourhood.
Now, zillow.com have made it possible to embed this information on blogs and websites with a few clicks. To see this process in action, watch the video below:
As one commenter on zillow.com's blog quickly pointed out, the big question is: where does this home value information come from – actual sold data or zillow.com's Zestimate home valuations? Sara Bonert, the website's director of broker relations, had this to say in response:

"Does the zillow.com information go off of actual sold data or Zestimates? Both. When we are talking about valuation data, we are using Zestimate (actually we are using Zindexs, which are based off Zestimates). The beauty there is that values are based off of ALL homes in the area, not what is currently on the market or recently sold. With sold data, we use it for the various sources that provide it to us."
zillow.com says its Zestimates are home valuations calculated using a "proprietary formula", but emphasises that Zestimates are not appraisals and encourages people to supplement them with other market research.

Related posts: