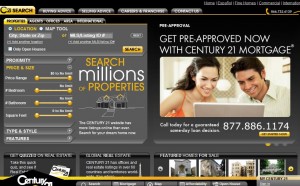 Century 21 Real Estate LLC has been showered with awards lately for its website, century21.com.

century21.com recently won an Online Advertising Creativity Award from the OMMA Awards, and a WebAward in real estate excellence from the Web Marketing Association.
Bev Thorne, senior vice president of marketing, Century 21 Real Estate LLC, said:
"These awards underscore the effectiveness of our interactive marketing effort and our commitment to providing an enhanced online experience for our consumer. Our digital strategy continues to drive results and deliver value to Century 21® System members. Since last year, we have driven 65 percent more leads to our franchisees, while decreasing our cost per lead by 50 percent."
The OMMA Award singled out Century 21 Real Estate for its search engine marketing work with MediaCom Search, a division of GroupM Search. Century 21 Real Estate was honored for having the best search marketing for paid search. Century 21 Interactive Marketing says it optimised its paid search functionality through a sophisticated consumer segmentation strategy designed to better connect with consumers by honing in on where they are in the purchase cycle. Century 21 and MediaCom Search also received a Stevie Award this for this same campaign back in July.
Century 21 Real Estate's receipt of a 2009 WebAward recognises innovative technology offerings and an enhanced customer experience via century21.com. Since its re-launch last year, the site has been updated with more innovative tools including Talks, an online consumer forum, and Open House Planner, an easy to use online tool that enables users to personalise, simplify, and organise their open house plan. This marks the second consecutive year that century21.com received an award from the Web Marketing Association.

Related posts: