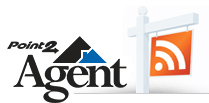 Point2 Technologies Inc. has debuted its Real Estate Confidence Index at the Inman News Real Estate Connect Conference.

The company says the Index tracks the real estate market opinions of thousands of real estate professionals across the United States, capturing the current, near-term and long-term sentiment of the people most attuned to market conditions. The company released its June and July national level results today with plans to provide regional indices starting September 2009.
Point2 is the largest independent provider of website and listing syndication solutions for the real estate industry, with users in over 100 countries on its platform.
The Real Estate Confidence Index is produced through a monthly survey of real estate professionals across the country who are asked to rate current conditions in their market, accounting for seasonality, on a scale of one to ten (1 being "bad" and 10 being "good") and rate their sentiment for market conditions 3-6 months and 6-12 months into the future on a ten-point scale (1 being "pessimistic" and 10 being "optimistic'). The median response across all questions represents the Index measure for the month. 3,191 professionals contributed to the Index in June; 3,201 contributed in July.
The Real Estate Confidence Index for June was 4.7, with respondents taking a measured assessment of current conditions on a seasonal adjusted basis – a median rating of 5 on the ten-point scale. However, respondents showed marked optimism for both short (3 – 6 months) and long-term (6 –12 months) prospects.
The July index showed a 16.5 percent increase, rising to 5.5, signaling that real estate professionals are seeing positive movement in a market characterized by contraction for over two years. However, not all respondents were sanguine. 18 percent were less than optimistic about market prospects even 12 to 18 months into the future.
"The feet-on-the-ground perspective only real estate professionals possess is critically important to understanding where the market is, where it is heading and, it simply cannot be captured by traditional measures," said Saul Klein, Point2's CEO. "The Real Estate Confidence Index provides a window into the market that did not exist before."
Point2 will issue the index on a monthly basis and intends to provide region-specific indices starting in this fall. The company will also provide advance reports to professionals who contribute to the index.

Related posts: