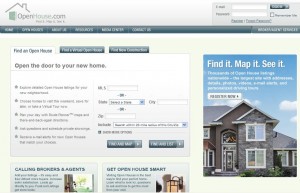 Realogy owned open house marketing website, openhouse.com, has relaunched with a new look and feel and a host of free services for real estate agents.

Real estate professionals can upload any US listings to openhouse.com for free and see them instantly online with the new OpenHouse Now tool. They can also use a free, automated, bulk-feed service called OpenHouse Direct.
Premium placements are available on openhouse.com but involve a fee.
Ben Phillips, openhouse.com vice president and managing director, was quoted on RISmedia as saying that as the spring open house season kicked off and "in a challenging economic environment, we want to provide more ways for the entire real estate community to market their listings, drive open house attendance, and provide more exposure for home sellers."
The improved website means users can find guides, open house schedules and addresses, view photos and details, take virtual tours, print a personalised driving tour, request information or a private showing, and sign up for e-mail alerts.
All leads are sent directly to the agent or broker.
openhouse.com is another way brokers and agents can maximise their listings. The company says it offers "the most fully detailed open house listings in markets across the country and in your chosen neighbourhood". This includes 7,256 open houses and 142,096 virtual open houses.
The company says future site enhancements are planned to expand openhouse.com's depth and coverage of US real estate markets and grow the site through alliances and partnerships.

Related posts: