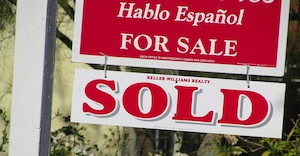 Good real estate websites present their agency in the best possible light - its current activity and its past achievements. To show off what your business has already achieved, we advocate including a section highlighting your previously sold listings.
To get a sense of what agents are doing in this area, we randomly surveyed 10 real estate websites from around the world to see whether they provided any information on their recently sold properties.
Out of those 10 websites, two had databases of all their sold properties and two had a small selection of properties that had sold very recently. Yet even though many of these websites represented well known brands, the other six had no recently sold information anywhere on the site.
Sold information may not seem an essential part of a good real estate website at first, but if you put yourself in your visitors' shoes - particularly if those visitors are sellers - you'll quickly understand why this information will impress them. Concrete information like this clearly shows how hard your agency has been working, and gives potential clients another reason to work with you.
[Image: TheTruthAbout]

Related posts: