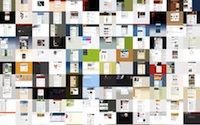 The results are in from our first poll of 2010, with the overwhelming majority of respondents saying they plan to spend big on online marketing this year.

For those of you planning to invest significantly more - or even a little more - in your online marketing strategy in 2010, you've come to the right place. Here are five articles to help you create your best online marketing campaign yet:
Know Where Your Leads are Coming From
Maximising Leads from Portal Sites
Top 10 Tips for Marketing Your Brand on a Budget
Print Advertising is Obsolete - The Case for Online
This month, we want to know what you have found to be the most successful element on your website in terms of generating business. Is it the fact that you give people the ability to search for listings? Do your audience numbers spike each time you provide detailed information about the local area?
Perhaps the social media side of the website is working the hardest, or you're finding most of your customers through the mobile website option you provide. What about those email newsletters your readers subscribe to - are they bringing in the customers?
Of course, in an ideal scenario, most or all of these elements would be bringing in plenty of leads. But if you only had time to focus your efforts on one area, which would you choose for maximum business success? Go to the poll on our homepage to let us know what you think, and feel free to add your own suggestions in the comments.
[Image: sawse.com]

Related posts: