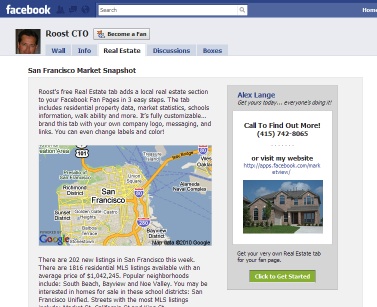 US agents keen to upgrade their Facebook profiles now have a new option from roost.com: an application simply named "Social Real Estate".

According to roost.com, the new application creates a "Real Estate" tab on the Facebook pages of real estate agents and brokers. It can then display city-specific housing, education, and walkability data to create more engagement with your contacts.
The free application takes school data from education.com, real estate market data from Altos Research, and walkability scores from - who else? - Walk Score.
"Facebook has passed 400 million users and is arguably second only to Google in mass consumer engagement, but most real estate brokers and agents struggle to use the platform effectively," says Alex Chang, roost.com's CEO. "Our application solves that problem by delivering content consumers want and engagement tools real estate agents need within Facebook itself."
roost.com adds that MLS real estate search, along with lead generation and drip marketing tools for real estate agents and brokers, will be included in a full version of the app slated for release in the coming months.
Don't live in the US? Still keen for ideas on how to make the most of Facebook? Check out our article on how to make the most of your Facebook fans, and our golden rules for social media return-on-investment.

Related posts: