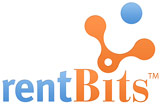 US rental property search engine rentbits.com has released its first whitepaper: Maximizing the Effectiveness of Marketing in the Single and Multifamily Rental Industry.

The whitepaper covers a range of information on the rental housing market including what type of housing renters are looking for, which marketing sources renters are using, and how rental search varies across demographics.
rentbits.com surveyed 1,000 renters to create the whitepaper. One of the more interesting results was the data on what resources renters are using to find their next property. As the graph below shows, 72 percent go online, 17 percent use the newspaper, 5 percent look at yard signs, and 5 percent rely on referrals:
It's interesting to note the difference between rentbits.com's data on renters and the NAR's data on buyers, which has 90 percent of respondents using the Internet as their first port of call when searching for property.
Meanwhile, rentbits.com has tweaked its advertising model, allowing users to list rental properties for free on Google Base, oodle.com, vast.com and hotpads.com.
There are two paid packages for advertisers on rentbits.com: a US$69.95 per month "gold" package to post listings to over 40 rental websites, and a $129.95 per month "platinum" package to post to over 100 websites. Both packages include free email and phone tracking.
rentbits.com includes rentals.com, homes.com, rentalhomesplus.com and rentalhouses.com as examples of the websites that will pick up these listings.
On top of those options, properties can be listed via rentbits.com's partner websites, and advertisers can also choose to post a feed file or have rentbits.com crawl their website for listings.
rentbits.com states that over 90 percent of potential tenants look at multiple rental websites when searching for their next home. The search engine says its distribution network reached over 10.2 million unique visitors in March this year.

Related posts: