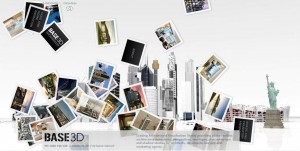 Static photos and traditional videos on property websites could soon become relics of the past. The new wave of technology to influence property marketing will likely be 3D tours that can take clients inside virtual representations of their potential home.

Bernice Ross writes on Inman News that 3D technology may eventually create what she calls "a full multisensory experience" for viewers, providing not only holographic views of a property but everything down to "the aromas of food cooking on the grill."
But before we can jump to the world of virtual reality property tours, there are still issues to contend with surrounding current 3D technology. A property tour in true 3D that jumps out at the viewer, rather than a 3D video on a flat screen, requires either a pair of 3D glasses or the installation of a parallax barrier in front of an LCD display.
As these barriers are not yet widely used, and require the viewer to sit in a pre-determined position to experience the 3D effect, 3D property tours currently focus on high quality animations of building interiors. Some allow viewers to control the progress of the tour, while others simply provide an animated film that gives viewers an enhanced sense of the property's dimensions.
In her article, Ross reviews the interactive tours created by Danish company United Lane, which allow users to "walk through" virtual properties, decorating them as they go.
Other examples of companies working on 3D tours to market real estate include Australian company BASE 3D, which produces 3D animations and perspectives of buildings. Outline 3D's products allow agents to link 3D representations of buildings to their listings. US company RTV 360° also creates 3D property walkthroughs, although these are not interactive.

Related posts: