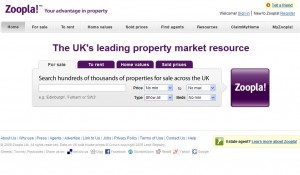 zoopla.co.uk is finally living up to its long-awaited promise and shaking things up with a new pay-for-performance model for UK estate agent listings.

Agents now pay nothing to list properties on zoopla.co.uk and only pay for qualified leads they receive from the website. There are no fixed fees and no minimum commitments. At only £1 per buyer and £5 per vendor lead, the company says the model delivers a highly cost-efficient marketing opportunity to agents and sets the site apart from other leading portals, which continue to charge subscription fees.
The exception to this rule is obviously propertyindex.com as it has been operating under a similar pay-per-lead model in the UK since late 2008.
zoopla.co.uk now offers 300,000 properties for sale and to rent and says the new pay-per-lead model aligns the interests of the agent and the portal in a true partnership.
The company says it is uniquely positioned to provide agents with not just buyer leads but also much sought-after vendor leads via its user base of property owners and exclusive AskAnAgent feature. zoopla.co.uk also argues it has the most active property community with over one million user contributions to the website already.
Alex Chesterman, founder and CEO of zoopla.co.uk, commented:
"Our model is all about bringing efficiency to the marketplace. By charging only for results, we plan to change the game for agents in terms of the efficiency of their marketing spend and their ability to track performance. During these challenging times, it has never been more important to understand and measure the results of every pound spent and zoopla.co.uk is leading the charge in enabling agents to slash their marketing spend and pay only for the results they get."
zoopla.co.uk claims to be the UK's fastest growing property website and according to some metrics is now the 5th most visited property website in the UK. Over the last 12 months zoopla.co.uk has announced its highest ever monthly user figures, recording just short of a million website visits in January 2009 – a total of 972,802. This is a month-on-month increase of over 50 per cent. The website began the year by securing £3.75 million in new funding, listing a record breaking 15 million sold house price records, and revealing Malcolm McCallion's appointment as Sales Director.
With two rapidly growing portals, zoopla.co.uk and propertyindex.com, now operating on a pay-per-lead basis it will be interesting to see what kind of challenge this model issues to the Big 4 in the UK.

Related posts: