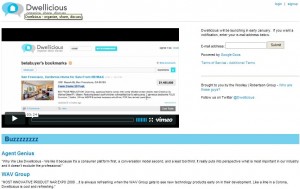 If you haven't already come across it, social bookmarking website dwellicious.com is the talk of the property world. It is free, focuses purely on real estate and will be launched by its creators, W&R Studios, in the US this week at Inman Connect.
The idea is quite simple: it is a single web-based site which keeps track of all properties that interest a searching consumer – an effective way for consumers to combine property searches across various property portals.
dwellicious.com works all the top ten real estate search portals in the US, and many more.
The new site will allow consumers to bookmark properties from around the web and learn more about the property's valuation, surrounding neighbourhood, and schools.
dwellicious.com "smart" bookmarks will update users with any changes that are made to the property such as price, new photos, or whether the property has gone off the market. Bookmarked properties can also be monitored via an RSS feed.
dwellicious.com will also make it easy for consumers to share and discuss their bookmarked properties with friends, family, or real estate professionals with one click sharing to social networking sites like Facebook and Twitter.
"Dwellicious is a simple but powerful idea," says Dan Woolley, co-founder of W&R Studios. "All the latest studies show that now, more than ever, consumers are starting their real estate search online and visiting multiple real estate sites. Also, searching for real estate is a very social process, where at least two people are involved; Maybe your spouse, family member or real estate agent, Dwellicious does a great job of bringing this all together."
Agents, not just consumers, also have something to gain from dwellicious.com. As Agent Genius said in their recent product review: "We like it because it's a consumer platform first, a conversation model second, and a lead tool third. It really puts into perspective what is most important in our industry and it doesn't exclude the professional."
Watch a video demonstration below:

Dwellicious Screencast Part Deux! from Greg Robertson on Vimeo.

Related posts: