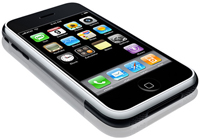 In the third quarter of 2009, Gartner put the number of smartphones sold worldwide at 41 million, which was a year-on-year increase of 12.8 percent. Now, Gartner's numbers have jumped to 100.7 million sold in the first quarter of this year, which is a huge 85 percent year-on-year increase.
But if you're still not convinced that this growing smartphone audience is going to have an impact on the way people search for information, check out the video from Google below:
The question for real estate agents is, how does the website you've spent so much time and money on look when loaded up on a smartphone? Have you checked? If not, now is definitely the time to start looking into some of the many options available to create a smartphone-friendly version of your website. Here are five popular tools to help you get started:
Mippin: Probably one of the fastest tools out there, Mippin lets you create an app showcasing your website's content in under five minutes, and it's free.
MobiSiteGalore: A three-page package is free, but for more pages you'll need to sign up for a yearly subscription, starting at US$156.
Mobify: Mobity offers a free basic package that allows you to create a simple mobile version of your website, but extra features will set you back $249 per month.
Wirenode: This tool is free for personal use, and paid packages are relatively cheap, starting at $6.68 per month.
MobilePress: One for the WordPress users out there, the MobilePress plugin turns your WordPress blog into a mobile-friendly site. The cost? $0.
If you've already created a version of your website for your mobile users, we'd love to hear about the tools you used. Let us know in our comments.

Related posts: