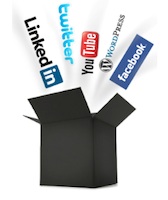 In this week's guest post from SOBOX – the social media solution created by propertyadguru.com publisher Classified Ad Ventures – we hear how CEOs are shying away from social media, and how to get them involved:
A new global study has revealed that 64 per cent of CEOs are not social online.
The study – Socializing Your CEO: From (Un)Social to Social – by public relations firm Weber Shandwick found that the majority of CEOs from the world's largest companies are not engaging online with external stakeholders.
Examining the public visibility of communication activities of CEOs from the world's top 50 companies showed there was strong evidence that although business leaders have a huge presence in traditional media, including delivering keynote speeches and commenting in the press, when it comes to social mediums they are not performing.
Weber Shandwick's chief reputation strategist Leslie Gaines-Ross says there is often a good reason for this – CEOs and their staff are wary of the medium.
However, she says, they expect this to change and "change fast".
There are many reasons why CEOs of all size businesses need to embrace this communication medium and do it now. Here are six rules from Weber Shandwick for executives to enhance their social reputation.
Identify best online practices of your peers and best-in-class social CEO communicators. Then establish and stretch your own comfort zone.
Start with fundamentals (online videos or photos). Inventory and aggregate existing executive communications for repurposing online.
Simulate or test-drive social media participation. Understand what you're getting into before you go live. Start internally although recognise that internal employee communications spreads externally seamlessly.
Decide upfront how much time you can commit to being "social". It can range from once a week to once a month, etc. You need to decide what feels right.
Craft a narrative that captures the attention of audiences that matter and humanises your company's reputation.
Accept the fact that getting social needs to be part of your corporate reputation management program. Purposefully manage your social reputation as well as your corporate one.
Knowing that only 36 percent of the world's top 50 companies' CEOs are "social" offers a great opportunity for smaller companies to dominate this space, before the "big boys" catch up.
A blog, Facebook page, Twitter account and excellent LinkedIn profile are must-haves to give you an expert voice in the real estate industry.

Related posts: