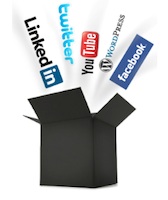 SOBOX, the Australian social media tool created by propertyadguru.com publisher Classified Ad Ventures, has announced a move to introduce hyper-local content for its customers.

SOBOX social media packages currently include real estate news and timeless content published to customers' blogs and other social media accounts on a regular basis. Now, SOBOX is looking to introduce more localized content to help agents engage with local audiences.
Specifically, SOBOX will publish three hyper-local posts per week to customers' blogs and associated social networks. This content will be tailored for each customer and include local real estate trends and market highlights, as well as broader lifestyle content that is just as relevant to prospective buyers, renters and sellers.
Kelly Millar, CEO of SOBOX, explains how the new hyper-local content will work:
Our dedicated team of journalists will continue to provide quality, relevant real estate content for our customers. In addition to national and state-based news and timeless (evergreen) real estate content, they will also look to source and create local and regional community news that is highly relevant to the local audience.
Providing tailored local content for our customers is part of positioning them as the experts in their areas, not just in relation to real estate, but in regard to local community news and events. Through involvement with and support of the community, consumer engagement is increased.
This upgrade to our content offering coincides with the ongoing education of our customers to publish their own articles, encouraging them as both creators and curators of content. SOBOX's role as social media partners is vital to real estate agents, especially as so many agents are new to the social media arena.
For more social media marketing tips from SOBOX, check out the SOBOX blog.

Related posts: