For those who run their own websites, keeping content above the "fold" – the place where a web page disappears below the bottom of a browser window – can be an important issue. Ideally, content you want to draw attention to will sit above the fold, giving visitors an incentive to investigate further before they bounce back to their search results.

But because Internet users view websites through a wide range of different browsers, knowing exactly where the fold is for each of them can be tricky. To address the problem, Google have stepped in with their new Google Browser Size tool.
As the Google code blog explains, the tool came about when Google realised around 10 percent of people couldn't see the download button for Google Earth without scrolling down the page.
So, how does the new tool work? Simply visit browsersize.googlelabs.com and type your website's address in the search bar. Your website will then pop up with an overlaid graphic showing what percentage of visitors can see the various parts of your website. We've plugged in propertyadguru.com to give you an idea of what the results will look like: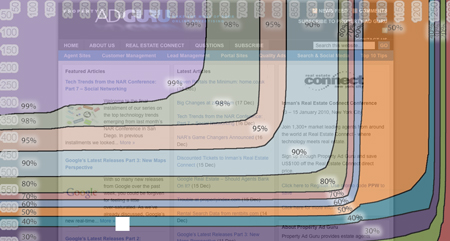 Once you've seen what your visitors see, you can decide whether your website is in need of any changes. propertyadguru.com is already working on a new design, which we're looking forward to debuting early next year.

Related posts: