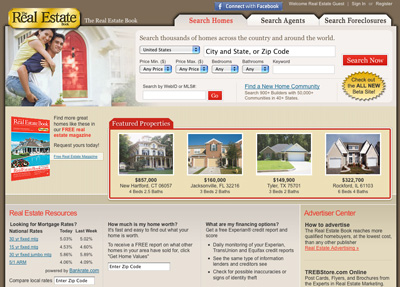 Network Communications Inc property portal realestatebook.com has recently launched new advertising options for its users through a partnership with display advertising provider iPromote.

realestatebook.com users can now create rich media display advertisements through iPromote's One-Click Advertising technology that will run across a network of websites such as MSN, Yahoo! and Facebook. iPromote says the advertisements will reach an audience of over 40 million unique users per month.
The new advertising option is pay-per-click and users can set their own budgets. They can also choose whether to advertise at a local, national or international level. Real-time maps and graphs show how well the advertisements are performing in different areas.
iPromote established a similar partnership with real estate technology provider realbird.com earlier this year.
realesatatebook.com covers home sales in the US, Canada, Bahamas, Cayman Islands, Dominican Republic, Mexico, Panama, Puerto Rico, Turks and Caicos Islands and the US Virgin Islands. Its listings are published through partners such as vertical search platform vast.com and global property portal enormo.com.

Related posts: