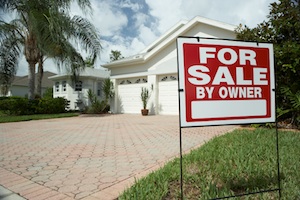 A few months ago, we reported on the rise of For Sale by Owner websites, asking whether a slew of recent releases were having any tangible effect on agents' business. This brought out the full range of opinions, from those championing the FSBO approach to those highlighting the value of using a real estate agent.

Now, new research by Nielsen suggests that the economic downturn may be causing sellers to doubt their FSBO plans, driving them back to real estate agents' offices.
This New Zealand-based research, detailed on unconditional.co.nz, shows just 11 percent of sellers are definitely planning to sell privately, down from 17 percent in 2007.
At the same time, the number of sellers planning to work with a real estate agent has grown, up from 35 percent in 2007 to 47 percent this year.
This all sounds like good news for agents, until we consider the fact that this still leaves over half the sellers surveyed either definitely planning to take the FSBO approach, planning to at least try it before they contact an agent, or unsure of what their sale plan will be.
So how do agents win over those sellers on the fence?
We looked at this issue through the eyes of a number of industry experts in our series "staying relevant in the online age." Their ideas ranged from offering unrivalled knowledge about a local area to creating and maintaining strong client relationships via social channels.
The question to ask is: what do you provide that no one else in your market can - your unique value proposition? Define that, and you should have no problem convincing sellers that working with you beats the FSBO approach, hands down.

Related posts: