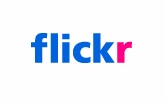 We're all aware that a well-executed Facebook presence can pay dividends, and that a tool like Twitter can be just the thing to drive online engagement with potential customers. But there is another, less-hyped cousin of these two popular social networks: Flickr. Done right, your Flickr presence could become yet another social source of leads.

So where do you begin with this photo-based social network? The good news is that once you sign up, adding photos is a simple three-step process of choosing, uploading, and describing them. This last step is important for real estate agents - be as detailed as you can in your title, description and tags so the maximum number of people can find your photos.
If you're still wondering what on earth a photo sharing website could have to do with real estate search, consider Flickr's groups feature. This is where you can add your photos to subject-specific collections made by a number of users. For example, the Grand Rapids Michigan group, the Northern Beaches Sydney group, and the Manchester UK group are all full of photos showing off a particular area. The question is, who's photographing the part of town you represent?
1000Watt Consulting's Marc Davison summed up the argument for agents using Flickr in a recent blog post:
"Go to Flickr. Search your city. How many images here are yours? If the answer isn't more than anyone else… change that. Who better than you to document every street, neighborhood, hiking, jogging and biking trail, sunset and sunrise vantage point, vista, mesa, valley and alley in the area?"
Davison hits the nail on the head here. At first glance, Flickr may look like a collection of arty photos, but plenty of people do use it to get an idea of what a new town or suburb is really like. All you need to do is be online to meet them.

Related posts: