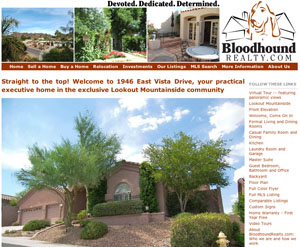 Research by godaddy.com, a domain name registrar, has revealed a sharp increase in the number of domain names registered after street addresses in the US.

godaddy.com compared the number of "home addresses" domain names registered in 2005 and 2008, and found a 320 percent increase in the number of registrations. godaddy.com states that struggling real estate markets, such as California, Florida, New York, Phoenix, Atlanta and Chicago, had the highest number of registrations.
"We noticed an uptick on domain names containing words like 'street,' 'avenue' and 'road,'" said godaddy.com founder and CEO Bob Parsons. "When we ran the numbers, the trend line was undeniable. More people are registering domain names matching their physical addresses."
So why are more people using websites that showcase just one home? Gregg Swann, owner of Bloodhound Realty, who registers street address domain names with godaddy.com, explained his reasoning:
"Buyers typically want all the answers to their questions before they talk to me. By making the exact address clients are considering available online, all they have to do is type the street address online and presto, the individual website pops up and buyers get all the relevant info."
But one drawback of marketing through a single property website is that it represents another expense on top of portal listing fees. godaddy.com domain names attract subscription fees, as do similar services from US providers such as vflyer.com and mymarketwire.com and Australian providers like mypropertyaddress.com.au and homewebsites.com.au.
UK based estatecreate.com also charges for its domain names, however the website has recently picked up an award for "Outstanding Achievement in Web Development" to recommended it.
One free option comes from postlets.com, which offers free single property websites as well as syndication to locations such as Craigslist, Facebook and trulia.com, however its website names do not reflect property addresses.
A single property website's overall effectiveness is another issue, as this recent discussion on business2.com.au suggests. So, while their numbers may be increasing, it seems not everyone is convinced single property websites are worth the extra effort.

No related posts.