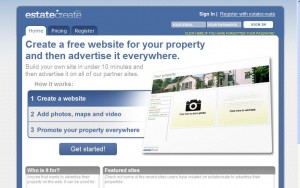 estatecreate.com is a new UK property website that launched this week. It aims to make it easier for private owners to advertise and list their properties online.

The company say that estatecreate.com is the first to offer consumers the ability to create their own standalone website for their property and then automatically feed the details through to a range of property classified and social networking sites, reaching an audience of over 2.5 million people each month.
estatecreate.com will initially offer listings with: Friday Ad, AdTrader, Google Base, Enormo, Zoomf, Globrix, Vast, Enormo, Trovit, Fish4Homes, Oodle and Facebook Market Place.
Henry Yates, founder and CEO of estatecreate.com, told propertyadguru.com more feeds will be added over the next few weeks.
"For £5.95 per month you can have your own website and reach the person that wants to buy or let your property, potentially saving 1,000s of pounds in agent's commission," said Henry Yates.
Estate agents are already under pressure and it doesn't look like estatecreate.com will make life any easier for them.
"We are allowing property owners to challenge their agent," says Henry. "When our customers get leads they can either negotiate direct or introduce the prospective buyer or lessee to their estate agent in return for reduced commission. At a time of falling house prices and rents this is a perfect opportunity to share this saving with a buyer."
estatecreate.com is launching in partnership with independent.co.uk which will be offering a version of the service within their property channel.
Bill Swanson, Managing Director (Digital), of independent.co.uk said: "We are excited about this partnership as we believe it offers an excellent solution to our users and readers at a time when everyone is looking for opportunities to save money".
The site is designed for people without any technical skills, and offers a range of templates. Users simply add text, photos and video and drag and drop content around each page. Customers can even have their website for free if they object to it hosting some advertising, and have the options of purchasing a URL and Google AdWords.
Loads of providers are offering single website creation, but the real benefit for users of estatecreate.com is that it is quick, easy and has listing benefits.
estatecreate.com was founded by Henry Yates, an entrepreneur who has previously co-founded and sold two businesses: Face, the research and planning agency, which sold to Cello PLC; and univillage.com, the social network for students, which sold to sub.tv.

Related posts: