Three New Online Time Savers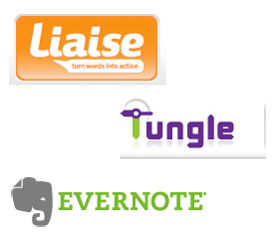 It's no secret that Internet use can quickly eat into our time. Whether it's sifting through emails, filtering through news updates or making connections on social networks, there are plenty of opportunities to lose an hour or two each day. Luckily, there are always new time saving applications being released, and many of them are free. Here are three of the latest offerings from the world of online time savers:

Liaise
Liaise is an email add-on for Outlook that allows you to do three things: capture, manage and collaborate on the information that comes into your inbox.
Liaise explains that every time an email arrives it finds tasks, issues, dates and priority levels. This information is then converted into an action list, complete with details on who needs to complete the task, which can be integrated into Outlook's calendar. Multiple users can view this action list, so everyone involved has an idea of how each task is progressing.
Liaise won Best Business Product at the DEMOfall '09 conference in September, and is currently available in limited beta for free. Co-founder and chief executive Sidney Minassian told venturebeat.com that web-based email is next in line for the Liaise treatment, and that paid services will eventually cost between US$4.95 and $9.95.
Tungle
Like Liaise, Tungle is another application focused on making collaboration easier. Tungle offers a free web based application that helps people find the best time to meet, and also recently released a version for iPhone.
Tungle shares people's availability across calendar systems. Its iPhone application, side-stepping the difficulty of viewing calendar details on the iPhone's small screen, lets users shake their iPhones (or tap a button) to instantly find a meeting time that suits everyone. The iPhone application also displays Tungle contacts with icons that show their availability, allowing you find out whether someone is available before you call them.
Evernote
Not quite as new as Liaise or Tungle, Evernote is no less useful. The free application works by collecting everything from digital text and screen captures to photos of meeting notes on whiteboards and sound files, storing this content, and making it all searchable.
As James Kimmons points out on about.com, agents could use Evernote for a vast range of tasks, such as documenting reactions at showings, tracking progress on construction and repair work, or even gathering new marketing ideas. "I consider Evernote as one of my most valuable 'stress reduction' tools," Kimmons writes. "It makes me feel more in control of today's information overload."
Of course, these few examples don't begin to cover the many time saving applications currently available. As always, propertyadguru.com is interested to hear which have worked for you, which to avoid, and what kind of time saving applications you'd like to see developed in future.
Related posts:
Related posts brought to you by Yet Another Related Posts Plugin.