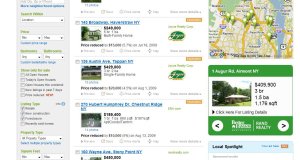 Last year US property search engine trulia.com released a product it calls "Online Billboard w/ live listing widget", which it claims has revolutionised the "banner ad" as we previously knew it.

In a blog post updating users on the progress of the online billboard, trulia.com writes:
"Banner ads don't generally work to drive traffic to your website. They also tend to offer little relevant content to the consumer. What does that mean? The old banner ad is on life support because advertisers failed to ask one important question: Why would a consumer interact with this ad?"
Pierre, trulia.com's Manager of Industry Relations, says he believes a banner ad needs to meet several criteria in order for a consumer to click on it:
1) Relevant to the site they are on, and that specific site's experience
2) Fresh, live data that won't be overly duplicative
3) Movement or implementation that attracts the consumer's eye
4) Deliver EXACTLY what the consumer expects when they click on it, thus making the experience positive.
5) Seamless integration into the experience
So trulia.com created its turn-key system, the Online Billboard listing widget, which the company says fulfills the criteria above and more, when coupled with Trulia's targeting by ZIP, county, state, price points and more.
After a year of testing, trulia.com says its hypothesis was correct and every Online Billboard unit that ran its live listing widget saw a 3-5 times increase in click through rates when compared to standard banner ads. Some had so much as a 10 times increase, regardless of where the widget was targeted geographically. And an early case study with Prudential Real Estate, where they ran both ads in 30 day trials, increased Click Through Rates by 5 times.
You can see an example of the Online Billboard at work for Rand Better Homes and Garden here.

Related posts: