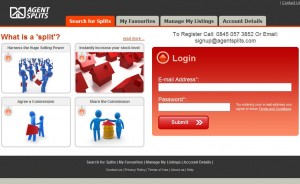 A new website has launched in the UK to help agents sell and let residential properties.

agentsplits.com describes itself as a business tool that increases the number of properties available to agents, while giving them access to new clients through partnering agencies.
A split is when an agent instructs other agents to help rent or sell a property and a percentage of the commission is shared between the two agencies.
Behind agentsplits.com is Property Listings Worldwide Limited (PLWL), a company which provides value-added services and products to estate and lettings agents throughout the UK.
Sascha McDonald, MD of agentsplits.com, says:
"The idea was borne out of feedback from agents about the difficulty of today's marketplace. We saw that agents wanted more than new marketing avenues to move properties. agentsplits.com allows agents to harness the selling power of multiple agencies to increase the number of clients and properties on their books and then split commissions."
The website allows agents to upload data automatically from their existing software, manage property information, arrange commission splits with other agencies, and re-market properties as their own to clients.
The company asked for input from agents and feels the website offers a response to the challenging economic climate.
McDonald says that after launching three weeks ago in London the website is now open to the rest of the UK and so far the reaction to the website has been incredibly positive.
agentsplits.com is free to use whilst it is in beta.

Related posts: